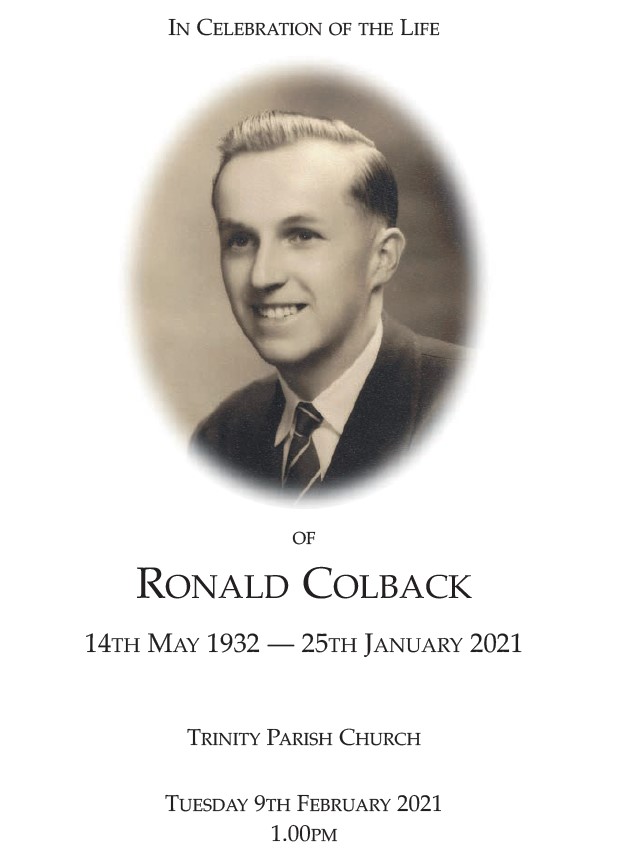 Eulogy from Gini & Chris
Friday, 8 January 2021
One of the best ways of summing up my dad, Ronald Colback, is by watching the video of him on the website Colback.com. It shows him at the wheel of a red Morgan sports car, driving in the sunshine along the roads of Jersey, probably too fast, with absolute determination and an unshakable sense of where he is going.
He made many journeys in his long and happy life and it is fitting that his last one should be here in Trinity. It was in this parish that he grew up, went to school and, just down the road at Coburg Chapel, met the daughter of a Trinity farmer, Ella Barette, who was to be his inseparable wife of 64 years and mother to me and my brother Peter. If you look closely, you will find Ron's teenage initials carved on a tree on the road to Bouley Bay.
As well as his family and the garage business, Ron's Christian faith was important to him throughout his life. He was a lay preacher, a supporter of the Mission Aviation Fellowship and a trustee of Halkett Place Church. He was a deacon at Vauxhall Baptist Church in St Helier, a role he took seriously, although he was always able to see the funny side of rituals. When he sang hymns he had a habit of rising onto his toes in time to the music. As children, my brother and I, standing alongside him in the pew, would imitate him, knowing that this would made him laugh. He would stuff a handkerchief into his mouth to stifle the giggles.
His entrepreneurial spirit was present from his youth, which was not an easy time for him because of family circumstances. Nevertheless, with great strength of character, good humour and humility, he worked hard to enjoy a fulfilling 88 years, both personally and professionally. He worked in farming and was the first person to drive an International bailer in the Island. In spite of severe hay fever he continued to bale hay at sixpence a time, such was his work ethic. On his return to Jersey in 1968 after 6 years in Australia with a young family, he worked for the family firm, J E Colback and sons, which he ran first with his cousin, Alan, and later with Ella, also going into partnership with Paul le Page in Guernsey. He loved flying with Aurigny to the Guernsey dealership on monthly business meetings which, from what I could make out, were held in a Chinese restaurant in St Peter Port. In due course, Ron and Ella were to travel the world, including on some memorable company trips with Volvo, whose cars he loved and which were to play a big role in his life.
Ron was a natural salesman with an adventurous spirit. He and Ella decided to emigrate to Australia in 1962 as ten-pound Poms, as they were called, paying £10 to sail to the Antipodes, with a 2-year-old daughter who had to wear a harness in order to prevent her from running off on board the ship. Ron loved to tell the story of how there was no work when he arrived in Western Australia so he dug drains in the 90 degree heat. He also started a milk round in the bush before selling furniture and starting a church which is still going today.
As well as being a successful and tough-minded businessman, Ron was mischievous, rebellious, a practical-joker. During the Occupation, when he was a child and teenager, he and his friends played pranks on the Germans, unaware of the danger. He loved classical music and jazz as well as hymns, marching bands, nature, fast cars and tractors. With a whacky sense of humour of the kind personified by the radio Goon show of the 1950s, he approached life in a spirit of fun and positivity. I remember that whenever I complained of having a headache or of feeling ill, he would say 'nonsense' and tell me to run round the house 3 times and this would cure me. Another much- told memory of high jinks was the time that he and his friends lowered the future Constable of St John, John Le Sueur, into the sea on the Bouley Bay harbour crane – John dressed in his best suit.
As he grew up he became less wild but he never lost his sense of fun.
Ron was also kind and generous, supporting charities and individuals in need. He was always concerned for the welfare of his staff at the garage and quietly helped many people with their problems.
His determined and sociable spirit helped him to cope with the challenges of old age, illness and dementia. Still overcoming difficulties with a smile and a joke towards the end of his life.
---
This song was one of dad's favourites and we often sang it together and with his brother Graeme.. putty putty